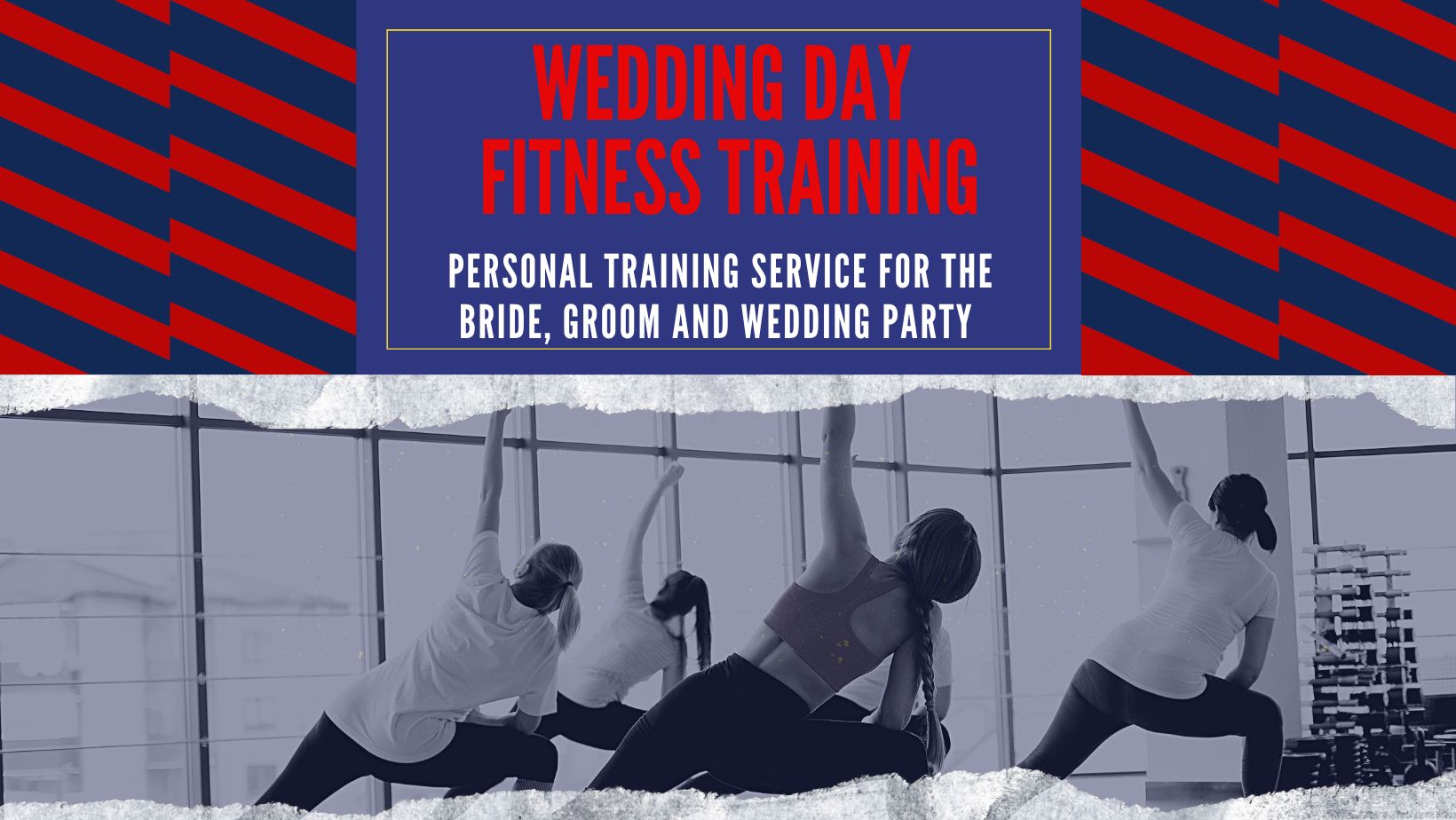 Wedding Day Fitness Training For Brides, Grooms and Wedding Party
Our Wedding Day Fitness Training program is designed for brides and grooms who want to shed weight before their wedding. With the time constraints commonly faced before weddings, the program aims to deliver noticeable results within a few days to 4 weeks leading up to your special day.
The first step to looking like a million dollars on your wedding day is to ensure that you fit into that dress or tuxedo you bought for the event.
But what if you forgot to count calories in the days leading up to your big day? Is there a fast way to lose a size?
If you're in Long Island, consider yourself lucky.
Pre-Wedding Day Fitness Training Workouts
Weddings are truly once-in-a-lifetime events, and we understand individuals' desire to look their absolute best on their special day. Therefore, pre-wedding day fitness training is essential to meeting the moment.
For this reason, we have created a training program designed to provide noticeable results while ensuring participants have enough energy to enjoy the event.
The program focuses on moderate-high intensity workouts, which strikes the right balance to achieve results without causing joint and muscle strain that might hinder you from gracefully walking down the aisle on your wedding day.
Pre-Wedding Day Fitness Training Workouts Are On The Rise
A survey by Treadmill Reviews revealed that "6 in 10 brides and grooms" tried to slim down in the days leading up to their weddings. The same study also found that two-thirds of bridesmaids and over half of groomsmen also attempted to shed pounds before the event.
In fact, this trend doesn't surprise us. Most weddings are extravagant and memorable occasions that people cherish for a long time, so attendees make an extra effort to look their best on that special day.
Benefits Of A Wedding Day Fitness Training Program For Brides and Grooms
A pre-wedding day fitness training program, designed specifically for brides and grooms, offers a multitude of benefits that can contribute to a happier and healthier start to married life.
Here are the some key advantages:
Physical Health: Getting in shape before your wedding day can lead to improved physical health. You'll likely see benefits such as weight loss, increased muscle tone, and enhanced cardiovascular fitness. This can boost your energy levels and overall vitality.
Stress Reduction: Wedding planning can be stressful, and exercise is an excellent stress-reliever. A fitness program can help you manage pre-wedding jitters, reduce anxiety, and promote mental well-being.
Boosted Confidence: Looking and feeling your best on your wedding day can boost your self-confidence. Knowing that you've put in the effort to be in top shape can make you feel more radiant and self-assured.
Increased Endurance: Wedding days can be long and demanding. Improved physical fitness can help you stay energized and endure the festivities, from the ceremony to the reception and beyond.
Enhanced Posture: Working on your posture can make a significant difference in how you carry yourself on your wedding day. Good posture exudes confidence and grace, which can be especially important during the ceremony and in photographs.
Strengthened Immune System: Regular exercise can strengthen your immune system, helping you stay healthy in the weeks leading up to your wedding. The last thing you want is to be under the weather on your special day.
Quality Time Together: Couples who train together can bond over shared fitness goals and experiences. It's an opportunity to spend quality time together during the hectic wedding planning phase.
Healthy Lifestyle Habits: The habits you develop during your pre-wedding fitness program can set the stage for a healthier lifestyle as a couple. You may find yourselves making better dietary choices and continuing to stay active after the wedding.
Better Sleep: Exercise can improve sleep quality. Adequate rest is essential for looking and feeling your best on your big day.
Photogenic Results: Physical fitness can enhance your appearance in photographs. You'll likely be more photogenic and comfortable in front of the camera, resulting in beautiful wedding photos to cherish.
A Sense of Accomplishment: Completing a pre-wedding fitness program can give you a sense of accomplishment. It's one more thing you've conquered together as a couple before embarking on married life.
Positive Outlook: Regular exercise releases endorphins, which are known as "feel-good" hormones. This can contribute to a positive outlook and a more joyful wedding experience.
A pre-wedding day fitness training program can offer physical, mental, and emotional benefits that extend far beyond your wedding day. It's an investment in your health, confidence, and happiness as you start this new chapter in your life as a married couple.
Wedding Day Fitness Training Pricing
All wedding day fitness training workouts are In-Home or Public Space trainings. An agreed upon training location will be confirmed before the first training.
Private Training Pricing
6 Sessions – $500 (save $100)
12 Sessions – $1,000 (save $200)
Servicing Suffolk County, Long Island NY