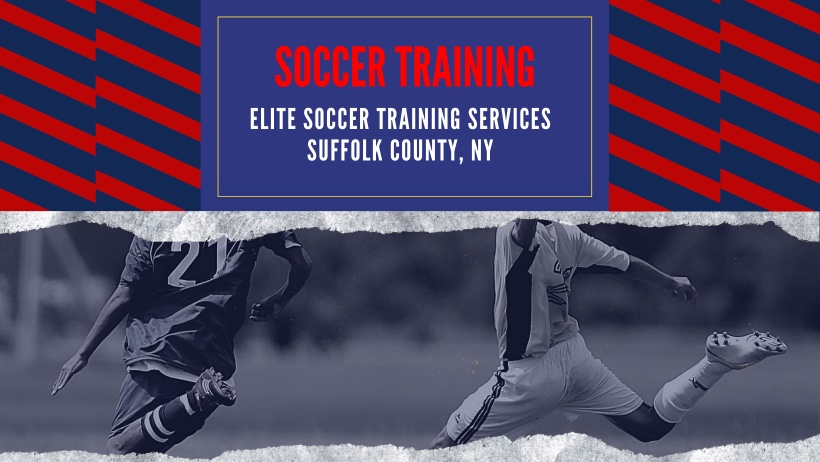 Custom Soccer Training Services to Elevate Your Game to The Next Level!



Long Island Soccer Trainer
Soccer or Futbol is the #1 sport in the world and continues to grow in popularity.
It is one of the easiest sports for kids to get involved in at the youth level and many opportunities have opened up for high school and college athletes to pursue a career in the sport.
To become the best player you can be, and take advantage of these opportunities, it takes training, hard work and determination.
Here at Long Island Sports Training we offer elite soccer training services grounded in fundamentals to the athletes of Suffolk County, NY.
Our soccer training program is designed to improve all aspects of your game including shooting, dribbling, field vision, ball control, trapping and passing to name few.
In addition, we offer a strength, speed and conditioning plan that is soccer player specific and tailored to get you into tip top shape for the start of the season. This plan also provides continued body maintenance throughout the season to keep athletes performing at a high level.
Dynamic Soccer Training Services
Have something specific you need to work on to bring your game to the next level?
All of our training plans are player specific and we can address any area you feel needs the most improvement.
We Provide Soccer Training Services For All Ages 7 And Over.
All HS soccer players from grades 9-12 that enroll for any of our training services will receive our Soccer 30-day Strength, Speed and Conditioning Plan.
Shooting
Being able to put the ball on goal consistently can separate the good from the great. We work to improve your velocity and accuracy of both feet to help make you an all around threat.
Dribbling
Having elite dribbling abilities can put a lot of pressure on the defense and get you out of some tough situations. Our training is designed to give you maximum touches on the ball to make it an extension of your body.
Trapping
Fielding the ball out of the air takes practice to do it effectively. We work on controlled trapping skills, with all parts of the body, to make winning the ball out of the air a lot easier.
Field Vision
Seeing the play before it happens. We train you to see the pass or play has it is developing to make good decisions, read angles and make solid plays on the ball.
Ball Control
Ball control may be one of the most important aspects of the game. We work on controlling the ball with all aspects of your body to make shooting, dribbling and passing more precise.
Passing
The teams that are able to pass are the teams that are able to breakdown defenses for easy goals. We work on passing accuracy, pace, touch, passing to space and reading defenders to help you put those assist on the board.
Cutting, Fading, Drifting
Knowing how to position yourself for throw in's, free kicks and normal game play is very important. We help train you on how to cut, fade and drift into positions on the field to take advantage of scoring opportunities.
Tackling
Defense not only wins games it wins championships! We teach you how to effectively contain, close out and tackle opposing offensive players to keep them from getting past you for a goal.
Defensive positioning
As a defender, knowing where to be on the field and how to cut off angles is of utmost importance. We teach field positioning, tackling, cutting off angles and off side positioning.
Soccer Training Pricing
Below is the pricing for our soccer training services. We offer private, group and team training. Call today to get started!
Private Training Pricing
1 Session – $70
6 Sessions – $350 (save $70)
12 Sessions – $650 (save $190)
Group Training Pricing
1 Hour – $25/per player
Minimum of 4 players

Maximum of 8 players
Team Training Pricing
2 Hours – $25/per player
*The team must provide the field or practice facility for any team training session.
Servicing Suffolk County, Long Island NY